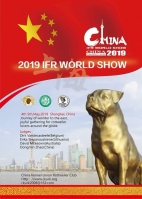 We learn that there is some animosity on social media about the fact that the IFR World Show 2019 will be organized by the Chinese Rottweiler Club, a decision that was taken unanimously by the Meeting of Delegates dd. 2017.
Like all dog lovers, we are aware of the gruesomeness of the photo's and video's that flood our western social media, showing dogs being horribly abused. They show a reality that is so horrible that it overshadows all considerations of accepting this as a mere cultural fact.
However, this cannot and may not motivate a call for a boycott of the IFR-show in China ! Those that do call for a boycott of the show, will in fact obtain the opposite result.