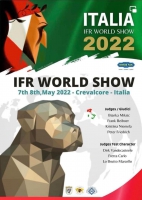 The IFR World Winner Show 2022 will be organized by the Italian Rottweiler Club SIR on 07 - 08 May 2022 in Crevalcore, approx. 35 km from the city Bologna.
The show will be judged by : Mrs. Bianka Miksic Kasun (Croatia), Mr. Frank Beiboer (the Netherlands), Mrs. Kristiina Niemela (Finland) and Mr. Peter Friedrich (Germany).
The character test (= not needed to obtain even the highest show results but needed to be eligible for the titles of IFR World Winner) will be judged by Mr. Dirk Vandecasteele (Belgium), Mr. Fretta Carlo (Italy) and Mr. Lo Brutto Marcello (Italy).
The show regulations, also the conditions to obtain the title of IFR Word Youth Winner and IFR World Winner, can be found on this website.
Our Italian Rottweiler Friends will shortly publish more details and news and we wish them - and us all - a great event !