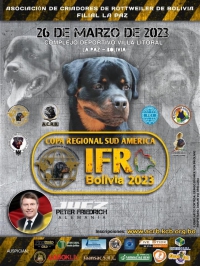 The IFR regional show South America will, as a part of a program of multiple show days, be organized by our Bolivian Friends on 26.03.2023. It will be judged by Prof. P. Friedrich.
Prior to the show, on 24.03.2023, there will be a demonstration of the Bolivian national breeding suitability tests and of the IFR Utility Dog Test (cfr. our show regulations). This will be accompanied by an explanation of the importance of organizing breeding suitability tests and the necessity of all parent dogs to mandatory pass such tests before being used for breeding.
On 25.03.2023, there will be a judges seminar.
We wish our Bolivian Friends a successful organization !!