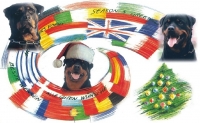 Dear Rottweiler Friends,
Before all else, I sincerely wish that this message reaches you and your family in good health.
I do not have to tell you that 2020 was not and will not be a happy year to look back on. The COVID-19 virus swarmed the whole world and caused misery in every thinkable way, socially and psychological, social and societal, economic and financial ....
We will bear traces of this on a human level, but also in terms of club life and we should not lose sight of the fact that the pandemic will also have left its mark on our beloved breed.
The fact that breeding, showing and trialing was largely impossible because of all sorts of necessary restrictions will indeed have weighed on our social life and taken away the pleasure that those activities bring to us, but also threatens to have a direct impact on the breed itself : not only has there been a decline in the number of births but also a lack of breeding selection. Let's indeed not forget that shows and working competitions are from a cynologic point of view much more than mere competitions as above all they aim at breeding selection !