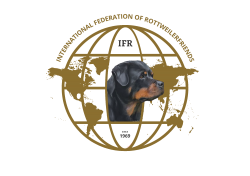 The IFR World Show 2022 was organized by the Italian Rottweiler Club SIR under the application of the show regulations of the Italian Kennel Club ENCI.
The male Negro Saetta Negri Rott was named best male (and Best of Breed). Based on this show result and having passed the IFR utility dog test, the dog also obtained the IFR title of World Winner 2022.
We were afterwards informed by the Italian Kennel Club that the show result of the dog is revoked and is therefore considered non-existent. To avoid and/or stop all rumors, we add that this decision is not based on the establishment of doping but on the fact that the dog did not allow the veterinarian to take a bloodsample.
Since the IFR title was however inextricably linked to the no longer existing show result, the title of IFR World Winner 2022 is necessarily also revoked.