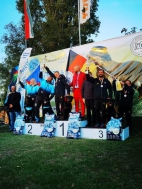 The FCI offers a "wild card" to participate the FCI World Championship all breeds 2022 to the winners of the IFR's IGP World Champîonship. We have communicated their identity to the FCI and have received the formal confirmation that both may indeed participate.
We hope that they will be able and willing to do so. They both made us proud of our own World Championship and I have no doubt they will do so again at the FCI World Championship and prove to the world that the Rottweiler is second to none on the competition field :
Procházka Hynek & Say Holubi Dum (Czech Rep.)
Seirer Erich & Donner vom Illergries (Germany).